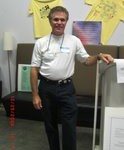 January 17, 2010
Motivational and inspirational speaker, Bill Roper, will engage our Unity family in January his his remarkable story of transformation.
Bill will explain how he overcame physical disabilities and mental stress in a spiritual journey taking him from being paralyzed during the Vietnam war to his life missions of helping veterans with traumatic brain injuries and helping others face any adverse situation.
He recently shared the powerful Life Visioning Process with Unity Church of Hilton Head Island  and a book is also in the works.
Bill will also be hosting a short workshop in the afternoon at 1pm (1 hour).
The Life Visioning Process Seminar
God has a vision for everyone's life.  Reverend Dr. Michael Bernard Beckwith developed the Life Visioning Process over 22 years ago to manifest his vision of an international trans-denominational spiritual center called Agape.  This same visioning process will allow you to catch a glimpse of God's vision for your life and learn the steps to manifest it into reality.
Bill Roper will host a short seminar to explain this tried and true process, which he has used to catch a glimpse of God's vision for his own life and how he has begun to live that vision. This Seminar is being presented on a love-offering basis.
Join Bill Roper from 1:00 PM to 2:00 PM on Sunday January 17, 2009 at Unity of Savannah.