UNITY Bookstore and Gift Shop
♥
New CDs are here!
Featuring
Guided Meditation with Jack Kornfield
,
Sound Healing
,
Music as Medicine
, and
Karma: Finding Freedom in This Moment
.
Thank you to Alethea, Laurie, Cynthia, Mimi, Michelle, and for their expertise and cheerful presence in the bookstore each Sunday!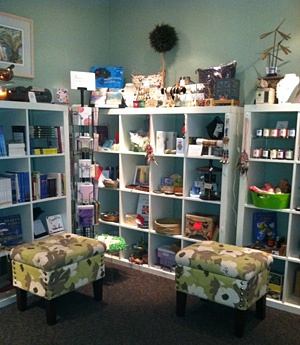 New books are arriving featuring "Structural Yoga Therapy"  and "The Yoga Back Book",  and   "The Tao of Now". So check the bookstore for these and other new titles!
New CDs include several on Meditation including "Mindfulness for Beginners",  "Shakuhachi Meditation Music", and "Mindfulness Meditation for Pain Relief".
There are some wonderful, yet affordable, NEW gift items – for yourself or for giving!!  Please stop by and have a peek!! 
Check out our variety of special items including books, musical CD's, candles, incense, pendulums, jewelry, and art for your home or office.
Also, our shop needs two more volunteers to help us staff the shop on Sundays.  Working store volunteers are eligible for receiving discounts on their purchases. It's fun working in our shop and we offer a rotation schedule for Sundays. If you are interested in joining the Bookstore Gift Shop Team please stop by the shop and leave your contact information.
Bookstore Hours: Sundays – 9:00 a.m. to 1:00 p.m.