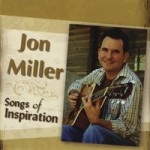 Sunday, November 1st at 11am – during our regular service – Jon will be our Special Music guest.
Also, at 1pm Jon will host a concert in the sanctuary.
Jon Miller is an award-winning singer/songwriter from L.A. (Lower Alabama) who is known for his witty songs and imaginative writing style. He has been the opening act for such acts as Trace Adkins, Josh Turner, The Charlie Daniels Band, Big & Rich, and Gary Allan. In 2006 Jon was nominated for two major awards "Country Song of the Year" and "Music Video of the Year" by the international Just Plain Folks Awards, honoring independent musicians around the world. Also, this year Jon was selected as a finalist in CMT.com's "Music City Madness". Most recently Jon released his third Nashville-produced CD, Songs of Inspiration. He intends to keep pursuing his dream of being a well-known independent artist and continuing to grow his fan base.
For more information and to listen to some of Jon's music, please click onto his website http://www.jonmilleronline.com/