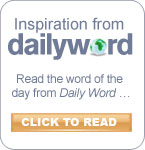 Receive daily spiritual inspiration, insight, and encouragement through Daily Word!
Each month this magazine offers daily spiritual inspiration and practical help through positive affirmations, inspirational stories, Bible verses and guiding thoughts. No matter what faith you are, Daily Word is designed to support you on your spiritual path.
This example was taken from the Daily Word – June 12, 2008.
Inner Peace
I center myself in the love of God and open my heart to peace.
As I enter the sanctuary of my soul in prayer, I let truth illumine my mind: God's love is the source of all good, and, therefore, the source of true peace.
The desire of my heart for peace is not limited by any external appearances or needs. In the midst of any discord or upset, regardless of what is happening in my life or in the world, I center myself in the love of God and open my heart to peace.
Strengthened by the power of pure love, I respond rather than react to life's challenging moments. Free from self-centered opinion or concern about potential outcomes, I am at peace spiritually. I make right choices calmly and thoughtfully.
With a pure heart, I live a life that is serene and secure. I am one with God's love.
"Pursue righteousness, faith, love, and peace, along with those who call on the Lord from a pure heart."-2 Timothy 2:22
Stop by the Unity Bookstore to pick up this month's issue. We also carry it the LARGE PRINT and Spanish editions.