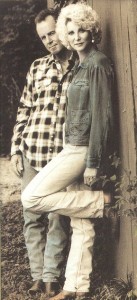 Sunday, March 24th is a very special opportunity to hear some great music and a great message from The Woodys!   CLICK here for a song sample video
The Woodys are our featured performers at 5:30pm on Sunday, March 24th at The Soul Full Cafe, in our sanctuary. Please put this on your "do not miss' list! and, of course, your calendar.
"They sound like the Everly Brothers in Heaven." The London Times "They're so country they make me smile. Think of Rodney Crowell and Emmylou Harris and you'll have the general idea." Robert K. Oermann, Country Music Historian
THIS IS THE SOUND OF TWO HEARTS BEATING IN TIME. When Dyann and Michael Woody harmonize, a magical thing happens. You can feel something resonating inside you. They seem to be reaching into a place of half-forgotton pleasure, a musical place where memory, nostalgia, tradition and innovation meet. It's almost as if they're plucking the strings of your soul.
THE WOODYS and have a #1 Americana Chart Album, won an International Top Country Vocal Duo Award and Michael is a #1 hit song writer. In addition to their secular success, THE WOODYS have a powerful Music Ministry performing nationwide at Conferences, Churches, Treatment Centers and Schools.