Teri Wilder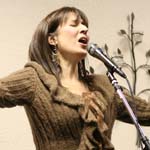 Teri Wilder – Visited us for a fantastic concert and evening of fun in September 2010.
Teri will be returning early 2011….keep watch for dates and times

Join us for a special concert with the amazing musical talents of "Teri Wilder"!
Originally from Chicago, Teri moved to Kansas City in 1994, where life brought many an unexpected adventure. After almost 11 years on the air in KC radio (Oldies 95, 101 The Fox, Star 102), she left the corporate world and began to pursue her first love full time again – music. Her self-titled first CD had come out in 2002, and was a foray back into songwriting after many years of singing other peoples' tunes. These were songs inspired by life in general, always with a positive spin. "If I'm going to write lyrics, I want them to make me – and others – feel good, or better."
In 2005, she began writing specifically for the New Thought churches where she'd been singing for a decade. Out of that came her sophomore CD, "I Choose Joy," rich in inspiration and good vibes. Her third CD is currently in the works. She continues to write music for churches, seminars, retreats, and conferences, and her songs are heard across the country in support of these and other events.
Never one to sit still, Teri travels the country singing at churches, giving keynote concerts and presenting workshops, and has also created a line of inspirational jewelry called "Wilder Things." Her dedication to raising the vibration of the planet is a theme running through all she chooses to pursue. Her infectiously positive personality and quick wit will hold your attention and open your heart.