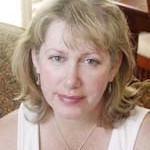 November 23rd, Sunday, 2:00PM
Join Ellen Farrell, Holistic Psychotherapist, and experience Divine Yoga. Ellen incorporates Alexander Technique and Energy Medicine exercises with a focus on breath and alignment to encourage the beginner to advanced student to be more present on every level and to feel joy and peace in every cell.
Ellen's clients love her heart opening meditations that bring about a state of blissful relaxation and inner connection.
Ellen is honored to be able to share about the Cambodian Children's Fund and her journey with the Off the Mat, Into the World's 2008 Seva Challenge. Namaste!